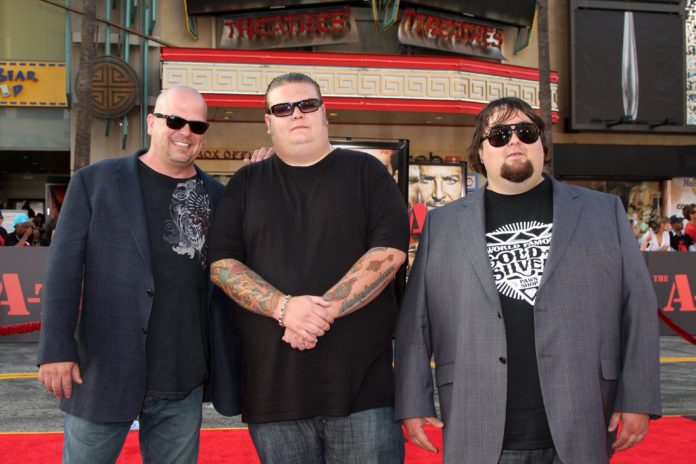 After just one full year of marriage, Pawn Stars cast member Corey Harrison, 35, and his wife Katrina are finalizing their divorce after a few days after the filing.
Although the couple is heading to divorce, Harrison has maintained that the cause of the divorce is mutual and based on the couple's inability to mesh due to "competing work schedules", according to The Blast.
"Karina and I love each other very much. With our competing work schedules, we just weren't able to make the marriage work but remain good friends and want only the best for each other."
Evidently, these sentiments are true since the former couple managed to already reach an agreement on spousal support issues and child custody. Nonetheless, this news comes as a shock to fans of the hit reality TV series Pawn Stars.
Last September, the former couple was seen having a dinner date at Andiamo Italian Steakhouse, not long after they were married in 2017. This public appearance gave many viewers hope that Harrison's second marriage would actually work out.
Harrison previously married his high school sweetheart, Charlene. It soon ended in divorce after their relationship turned sour, resulting in their separation in 2015.
During his second marriage, Harrison utilized social media to regularly flaunt his wife, their daily life, and their expensive dates, using hashtags such as #wifeyboss and #wifey. Earlier this year, Harrison informed the Los Angeles Review Journal that he and his former wife were expecting their first child.
According to that source, the couple planned to name the child, Richard Benjamin Harrison, after the deceased patriarch of the Pawn Stars series, Richard "Old Man" Harrison.
The announcement of the child's birth was made on Harrison's Instagram, but he deleted the post shortly. The former's couple's first child is expected to be due on Oct. 23.
Corey Harrison is a member of the Harrison family that operates the Gold and Silver Pawn shop in Las Vegas, Nevada. Aside from his work with his family's pawn shop, Harrison is also working with a promoter and musician Roxie Amoroso to run the new Beauty Bar in downtown Las Vegas.
In addition to the possible heartbreak of his divorce, Harrison is also dealing with the death of his grandfather, Richard "Old Man' Harrison who passed away in June after a lengthy battle with Parkinson's Disease at age 77.
"I was lucky enough to spend 15 years of my life working with the old man. He wasn't just a grandfather, he was truly a best friend as well," Harrison penned on Instagram after his grandfather's passing. "I'm truly blessed to have had him as a mentor. He will be missed everyday at this time we thank you for all of the kind words and we ask for privacy as we mourn his passing."
The last episode of Pawn Stars was a tribute to "Old Man" Harrison, which aired on June 27. The History Channel has yet to announce a return date for the series, which stands to reason given the unfortunate circumstances of the Harrison family and their loss.